A team like the city of Frankfurt.
The 40 members of our multi-cultural team come from very different countries. All are dynamic, friendly, and open-minded, just the way it should be in a metropolis. Being passionate hosts is a tradition. As an international city, Frankfurt has been welcoming guests from around the world for more than 800 years.
Variety rather than routine.
Mixing cocktails at the bar today, serving lunch at the restaurant tomorrow, providing services at a big event the day after. Whether it is small snacks for lunch, an à la carte menu in the evening or a grand buffet for 650 guests. Every day is different. That is just the way we like it.
A good job, a good life.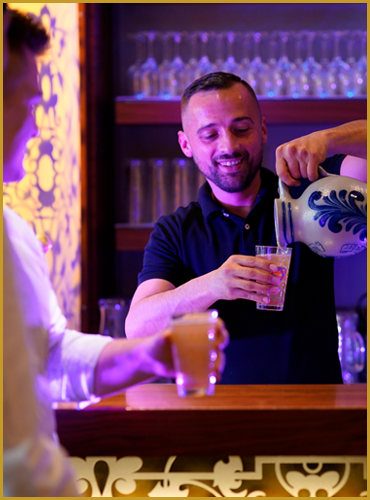 Work-life balance. We do a lot to ensure that you like your job, steadily advance, and identify yourself with Depot 1899. We offer training sessions, team events or tastings. Everyone has his or her area of responsibility. However, we are only strong as a team. To ensure that your private life and family are not shortchanged, we offer flexible full-time and part-time jobs.
The Depot 1899 is part of Accente Gastronomie Service GmbH, a subsidiary of Messe Frankfurt Venue GmbH. With over 300 people in permanent and up to 2,000 in temporary jobs it is Germany's largest Fair catering company.